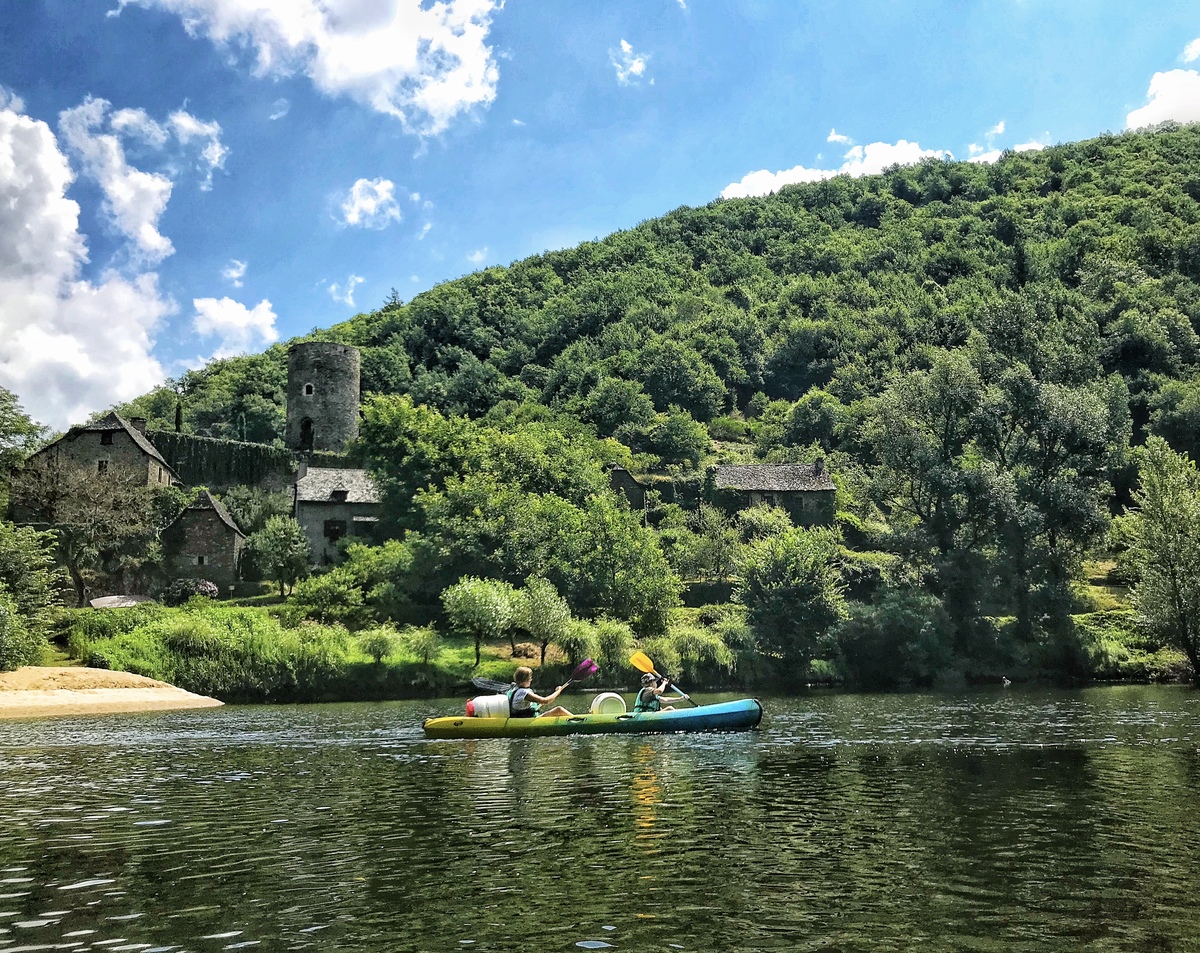 Description
Go down the river in a canoe, a kayak or a Stand up Paddle. From Entraygues to Grand-Vabre via Vieillevie there are no major difficulties, it is therefore accessible to anyone who can swim. Different courses on offer (10 km/half a day, 20 km/a day). Booking required for guided trips.
Location de canoës (2 ou 3 places), kayak, paddle en rivière, rafting (selon niveau d'eau). Descente à la 1/2 journée ou à la journée de 10 km ou 20 km (durée 2h30 à 6h). Parcours ludique : Entraygues / Le Port de Vieillevie, dès 8 ans. Parcours familial : Le Port de Vieillevie à Grand Vabre, dès 5 ans. Paddle : location à l'heure à la base de Grand vabre. Prestations accompagnées en juillet et août, sur réservation : - Spécial petits : Viens découvrir le kayak en t'amusant. Lundi, mercredi, et vendredi, à 14h15 (durée 2h). - Yak'a'Fun : à partir de 10 ans (pour ados et adultes). Viens passer un moment sympa en surfant sur la vague de la Digue (ou descente selon niveau d'eau) séance d'environ 2 heures. Jeudi à 14h15 à la base d'Entraygues. - Descente accompagnée : Venez appréhender une activité originale afin de découvrir la vallée du Lot à travers le canoë ou le kayak avec l'aide d'un moniteur, à partir de 12ans. Les mardis à 13h30 à la base d'Entraygues ou 13h00 à la base du Port - Stand Up Paddle : Venez tester votre équilibre en paddle sur le plan d'eau de Grand Vabre. Panier pique-nique à emporter sur réservation la veille. Que des produits locaux ! Resto-Loc : formule descente en canoë ou kayak + restaurant (Restaurant La Terrasse à Vieillevie, menu du jour Entrée / Plat / Dessert). Possible du mardi au samedi (hors jours fériés). Sur réservation. A la base du port de Vieillevie, activités gratuites : Jeux de piste et randonnées d'orientation, espace détente, activités en libres accès (slack-lines...). Nouveau : location de VTT à assistance électrique !! Activités spécifiques pour les séniors et les personnes handicapées. Activités spéciales : Sur réservation, adaptation à la demande Comité d'entreprise / Club Sportif / Enterrement de vie de jeune fille / garçon.
Opening dates
From 30/04 to 30/06, daily.

From 04/07 to 30/08, daily between 9 am and 6 pm.

From 01/09 to 31/10, daily.
Prices
Group rate available for > 10 people.
Languages
Localisation
Services
Pets welcome
Canoe hire
Wi-fi
Stand up paddle rental
Payment
Bank/credit card
Check
Travellers Cheque
Cash
Online payment